Gin Rummy Game Room - for Mobile Devices
| | |
| --- | --- |
| Gin Rummy Game Room Video | |
A scrollable gin rummy game room with 'green' theme selected typically shows up active players and their tables like in the picture below.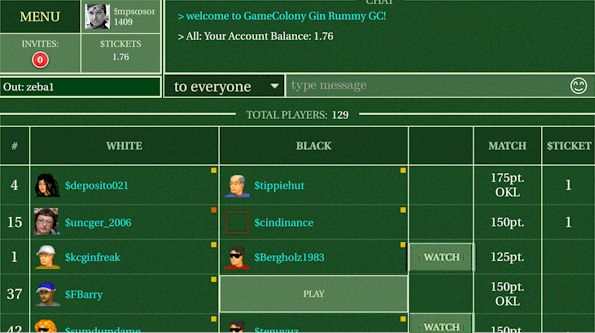 In the top-left corner of the game room, you can see the Menu button as well as your account and your invitations. All these areas are selectable. You can, for example, select your account and see futher details.
You can see the scrollable game room chat and a dropdown control to send a message to selected player or to everyone.

The main part of the game room screen shows players and their games. Open tables show 'Play' button. You can play, chat, watch other people play, select invitations, etc.



Selecting Menu, shows the following game room options:


You can use "Create Table" to set your own gin rummy table with your preferences
How to switch to OLD Java format and Back
If you select "Menu" button and then select "Switch to Java", you'd be switched to Java Main Hall.
You can make your selection of Java ginrummy versus New ginrummy permanent by using a checkbox "Check to switch to Java games".


How to Start Playing
You can play, chat, watch other people play, select invitations, etc.
To start playing, you'd either have to create a table or join someone else's table.
To create your own table, select Menu and then 'Create Table'. After creating a table, you'd be able to 'invite' players.
To play at someone else's table, select a 'Play' button
Gin Rummy Table
Gin Rummy Table shows your open cards on the bottom and game-related prompt in the middle of the board. Under your cards there's a chat area.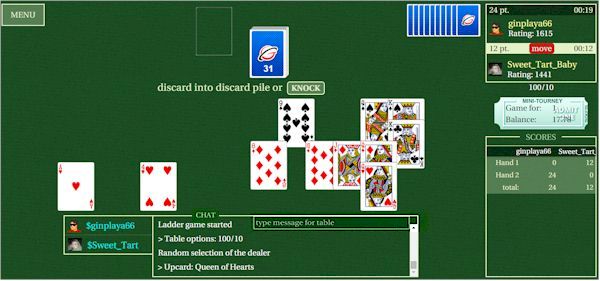 If there are several players or watchers sitting at a table, you can select a player name to chat to. To chat, just start typing or you can type after selecting the chat text input box located in mid-chat.

In the top right corner there's a clock area with players' respective times-per-move. Gin Rummy scoring area for each hand is below the clock. A Menu button is in the top left corner.